Shopping Cart
Your Cart is Empty
There was an error with PayPal
Click here to try again
Thank you for your business!
You should be receiving an order confirmation from Paypal shortly.
Exit Shopping Cart
Professional & Credible Security Officers/Bodyguards in Texas
Credible Security Solutions, Inc.
'If you have a security issue, we have a credible solution!'
Professional & Credible Private Investigators in Texas
MIAMI -- Frightened NFL players are carrying guns and hiring bodyguards as they seek to avoid becoming victims of violent crime which has already claimed the lives of two players.
     Seven players told the latest edition of ESPN The Magazine, to be published on Friday, that the murders last year of Washington Redskins safety Sean Taylor and Denver Broncos defensive back Darrent Williams, had raised the alarm among some of the country's toughest sportsmen. "We are targets. We need to be aware of that everywhere we go," said Tampa Bay Buccaneers corner Ronde Barber.Taylor was shot during a botched robbery at his home in South Florida while Williams was shot and killed outside a nightclub in Denver on New Year's Eve 2007. This year, Oakland receiver Javon Walker was robbed and beaten unconscious in Las Vegas and Jacksonville Jaguars lineman Richard Collier had to have his leg amputated after being shot and left paralyzed below the waist.The response has been an escalation in security for the players and NFL Players Association president Kevin Mawae, of the Tennessee Titans, estimates about half his teammates carry guns. "If I had to guess about our locker room, I'd say it's 50-50 when it comes to gun ownership," he told the magazine. "I don't own a handgun. I have a hunting rifle. My job is to protect my family. If someone comes into my house? Game's on," he said. Fred Taylor, a Jaguars teammate of Collier, said that not being able to carry guns at the team's facility makes him feel vulnerable. "I have all the security measures at my house -- systems, cameras, I can watch everything from my computer, but I still don't think I have enough. Who knows what is enough?" he said. "League officials tell us we need to take measures to protect ourselves. But the NFL says we can't have guns in the team facility -- even in the parking lot. Crooks know this. "They can just sit back and wait for us to drive off, knowing we won't have anything in our vehicle from point A to point B."Pittsburgh Steelers quarterback Ben Roethlisberger told the magazine that he now has a bodyguard with him at all times. "The one time I was scared the most, I didn't have anybody with me. I don't want to relive all the details, but this guy brandished a weapon in my face," he said. "I kept my cool and talked my way out of it. People showed up and helped get rid of the guy. That's when I decided to have someone with me all the time." Houston Texans corner Dunta Robinson suffered an armed robbery at his home, having a gun pointed in his face and being tied up, and says that was proof that even stay-at-home players, not just those who enjoy nightlife, can be at risk."It was the scariest moment of my life," he said. "You hear lots of stories of guys getting robbed and you say, 'Man, what were they doing, how did they get into that situation? Flashy guys. Rude guys, guys who act like they're better than everyone. I don't roll like that, and it still happened to me. "Big salaries, high profiles, and with easily available travel schedules make the players easy targets, but Dave Abrams, appointed as head of Denver's security following the murder of Williams, worries their families may soon be prayed upon. "What's the next layer? Wives and children: a kid kidnapped for ransom, or some other kind of craziness. I'm scared to death that's where criminals perceive the next vulnerability is for our players: their families."
© (c) CanWest MediaWorks Publications Inc.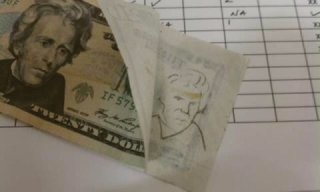 Due to our current economical status and various levels of greed, counterfeiting once again is on the rise. Another reason for this is the ease and speed with which large quantities of counterfeit currency can be produced using modern photographic and printing equipment. In fact, according to the United States Secret Service Annual Report for 2011, approximately 60 percent of the counterfeit currency passed 
domestically in 2011 was produced using digital printing 
means, compared with less than one percent in 1995.
According to the same report, there were 2,857 domestic and foreign arrests made for counterfeiting offenses and more than $154 million in counterfeit U.S. currency removed from circulation. In 2010, there were 3,028 arrests made with more than $261 million in counterfeit U.S. currency removed from circulation and in 2009, there were 2,866 arrests with $182 million seized. Overall in three years, that is a total of more than half a billion dollars ($597 million) removed from the streets of our great country. So, how much more is still in circulation today being distributed by petty street crooks, drug cartels and terrorist groups? They are endangering our nation's financial infrastructure by attempting to destroy the integrity of our economy and we need to take an aggressive approach to reduce/eliminate the issue.  
Countless businesses have been using a counterfeit detection pen for more then 20 years and are still using them today to hopefully detect counterfeit currency. These pens perform a PH test and are not as effective considering today's advanced technology. Since bills can be coated with an easily obtainable spray starch, it prevents those pens from identifying counterfeit bills. In addition, a large percentage of the counterfeit currencies in America today were once five dollar bills, which were then bleached and altered in order to create a more valuable denomination. These bills subsequently will be identified as authentic when marked with the pen since they are in fact already printed upon American currency.
Today, many businesses have opt-in to purchasing an ultraviolet counterfeit detection unit at every point of sale location, which enables the user to spot a fake bill quickly and efficiently.
These units can be used to accurately detect counterfeit currency;
state issued driver licenses/identification cards
, checks, money orders, credit cards, traveler's checks, casino chips and event tickets. If you are the Owner/Manager or the Director of Security of a financial institution, nightclub/bar/restaurant, retailer, stadium or any other business that handles any of the aforementioned items, then the CSS-1 is a must and an effective method of taking an aggressive stance against counterfeiters. 
If you have received any counterfeit bank notes, investigated a counterfeit currency case and/or would like to share a story, please feel free to leave a comment.
/