Shopping Cart
Your Cart is Empty
There was an error with PayPal
Click here to try again
Thank you for your business!
You should be receiving an order confirmation from Paypal shortly.
Exit Shopping Cart
Professional & Credible Security Officers/Bodyguards in Texas
Credible Security Solutions, Inc.
'If you have a security issue, we have a credible solution!'
Professional & Credible Private Investigators in Texas

Have you ever entered your home address in Google Maps? Does it show a clear picture of your home, vehicle or license plate? How about a picture of you or a family member? If you aren't sure, we suggest you search now by clicking on the Google Maps link below & following the simple steps to remove any images you don't want publicized.
The pictures on Google Maps can show strangers personal information regarding your home, especially if your garage door was open at the time these pictures were taken. It may also show what type of car you drive if your car was in the driveway at the time the photographs were taken. Even worse, Google maps may show your license plate and/or pictures of you or your family. Would you like to learn how to hide these images now?
There is NO way to keep your address off of Google Maps but you can get Google to blur out your property, vehicles, license plates & family so users will not be able to view them any longer. Here's the process which is outlined at Google:
• Bring up the street view of your property. 
• Look to the bottom right hand corner of the screen you should see an Icon Labeled: "report a problem."
• Click on "report a problem."
• You will get a page labeled "report inappropriate street view."
• Adjust the image so your house is inside the red box.
• Fill out the form. 
• Type the verification code at the bottom of the page into the box provided & click submit.
• Check back in a few days to see if the image has been blurred.
In previous blogs we've written as well as in our e-guide, we've covered the topics of reading body language and micro-expressions. We've never really spoken to much about macro-expressions, which could lead to emotional outpouring. Keeping your emotions under control is not always easy, even for the toughest of women and men. Michael Sam was selected by the St. Louis Rams in the seventh round of the 2014 NFL Draft with the 249th overall pick, becoming the first publicly gay player to be drafted in the league. If he plays in the NFL, he will also be the first active professional football player to have publicly come out. Watch the video below of his reaction when he found out he was drafted. 
Did you know that according to research that our affiliate Humintell reported on 
in a past blog, crying tears for emotional reasons is a trait unique to humans. Michael Trimble, a British researcher at the Institute of Neurology in London notes that if only humans cry emotionally then there must have been a time in human evolution when tears took on an additional meaning to their hitherto biological functions, namely as a signal of distress, and a cipher for suffering.
In another blog by Humintell, they commented on the emotional stirrings that many of us report having on airplanes.  In 2011, Virgin Atlantic ran a survey asking customers to describe their on-flight emotional experiences. Overall, 55% of travelers said they had "experienced heightened emotions while flying," and as the stunning statistic previously mentioned, 41% have also shed some in flight tears. These statistics are something that I can personally relate to due to a previous experience. 
I began writing my autobiography on a commercial flight from Baltimore, MD to Houston, TX. After writing the entire introduction of my still-in-progress book on that flight and proofreading it a few times, there were tears that actually came to my eyes during that time. Reading what I'd written made me reflect upon where I started in life and where I was on that particular day. I've actually decided to include that part of the of the book in this blog. These are the actual words used, so you can get a brief sneak peek at my first soon to be NY Times best seller. 
"It has taken me many years of requests, suggestions and thoughts to basically start with this opening sentence in my first book. There have been many different people in my life throughout the years that I have shared my various life accounts with, whom after hearing the story, would ask "Why don't you write a book?" After being asked that question many times throughout my life by people from all walks of life that included my family, my children, personal friends, doctors, lawyers and even by people who sold drugs and committed other criminal acts. It wasn't until a very dear friend of mine had asked the same question -"Why don't you write a book?" It only took her once to ask that before the proverbial light bulb above my head was actually created and the decision was made to follow through, or at least in theory. She asked that question on numerous occasions since the first time and it wasn't until approximately 3 years later that I began to type these words on my smartphone while flying from Baltimore, MD to Houston, TX. 
So, after living 44 years, 7 months, 19 days and some odd hours, it is this day that I begin to share with you my life story. My hope is to at least touch just one young person and let him or her know, that no matter what your upbringing, no matter what path you've chosen or are currently on, there is a way to change, adjust, improve and succeed. As I wrote that last line, I began to get choked up and a tear fell from the corner of my left eye. As I re-read what I just wrote, again, I became even more choked up and emotional. I guess after living hopefully what is at least half of my life, reflecting upon how I changed and then thinking of how I can help someone today by sharing my story, has made me quite sentimental........."
So in closing, macro-expressions can lead to emotional outpouring and I certainly identify with the 55 % of respondents that stated they'd experienced heightened emotions while flying, since I did as well. Please feel free to share any of your in flight stories below or to learn more about macro-expressions and micro-expressions, please click here. If you have a security issue, we have a credible solution! CSS1
Have you ever conducted an interview and were unsure if the individual was being 100% honest? If so, then this article is for YOU! We all know that the largest cost in any business is usually payroll. In order to have loyal, hardworking and HONEST team members, you NEED to hire appropriately. As private investigators, we have an obligation to our clients to ensure the highest levels of integrity and that all starts with us as business owners and who we HIRE. This article will assist you with hiring the 'right' candidate within your business. 
According to the Association of Certified Fraud Examiners, $50 billion is stolen annually from U.S. Businesses by their employees. That is almost equivalent to $137 million a DAY that comes right off the bottom line from all of the companies combined throughout the nation. This is a staggering amount, which can possibly be blamed on our economy, maybe a company's culture but I personally believe it ALL starts and can be prevented during the hiring process.
There have been dishonest people throughout the world for thousands of years and obviously this will continue but the question is not one's level of integrity but why are we hiring someone who is being dishonest during the interview?  Since, I am sure no one would knowingly hire someone who was being deceptive during an interview; I could only assume it is because the interviewer is not aware of the non-verbal modes of communication that occur during every conversation. We are going to cover eight CREDIBLE steps that will assist you within the hiring process as well as make your interviews more effective, which in turn will help you make a better choice when attempting to hire the 'right' person for the job. 
1.    CONDUCT A THOROUGH REVIEW OF THE RESUME:
According to the Society of Human Resource managers, 53% of people lie on their resume. So, that means more than half of the people you interview will have inaccurate information on their resume/application. If reviewing a resume, you should be aware of time gaps, numerous employers, education level and experience in the position they are applying for. If you are reviewing an application, you should be pay close attention to the reasons for leaving prior employment, criminal convictions and missing names/numbers of previous employers. This is the information you can use to base some of your questions on during an actual interview.
2.   REVIEW THE REFERENCES:
Now, some business locations will not give you any information regarding an applicant and may have you contact their corporate office. However, it doesn't hurt to try and who knows, you may get some very insightful information that you could use in your interview. So, please ensure you are taking notes while conducting your reference checks and use these notes as a guide with regards to their prior employment, education and additional skills they CLAIM to have on their resume or application.
3.    ELIMINATE INTERRUPTIONS:
You can do this by placing a 'DO NOT DISTURB' sign on the door, turning off your mobile phone, asking them to turn their phone off and/or unplugging any landline phones in the interviewing area. Then remove the barrier that most interviewers have when conducting an interview. You know the barrier I am referring to. Come out from behind your desk and place two chairs facing each other in the middle of the room with nothing in between them. Now, you the interviewer should be sitting in a rolling chair, preferably one with a back and arm rests. The interviewee should be sitting in a stationary chair without wheels or arm rests. This will help you read their body language during the interview and they will not be able to roll their chair to release nervous energy.
4.    DON'T ASK CLOSED ENDED QUESTIONS:
You should be doing 20% of the talking as they should be doing 80% of the talking, which can be accomplished by asking open ended questions. For instance, "Tell me about a time you were terminated by one of your previous employers." as opposed to "Have you ever been terminated by one of your previous employers?" The first question is open and will cause the guilty party to think more about the answer, which in turn may cause non-verbal modes of communication or body language markers of discomfort. This can help you identify the dishonest candidate and actually motivate them to be honest about their previous performance issues as well as why they were terminated. We will talk more about that in step # 5. The latter of the two questions is closed and could be easily answered with a simple 'no', whether they were or were not terminated in the past.
5.    INTENSIVE LISTENING:
An honest person will usually speak with confidence and in a timely manner to the question being asked. Using the example above, an honest person after hearing the question "Tell me about a time you were terminated by one of your previous employers." will quickly reply; "I have never been terminated!" if they in fact have not been. However, the dishonest candidate may pause and take a moment to think before answering that question because of how it was asked. Since a simple yes or no doesn't fit, they will need to think a bit more about the actual time they WERE terminated! That pause in answering can mean a few things such as them thinking about, which job of the many they may have been terminated from or they may be deciding whether to be honest with you or not (Internal Dialogue). That is when your rolling chair comes into play and is used to move in just a bit closer and with a soft spoken tone of voice say something like: "Hey, we're both human and we all make mistakes and bad decisions sometimes. What happened?" This rationalization is how you can motivate them to be more honest with regards to answering that question.
6.   BE AWARE OF THE NON-VERBAL CLUES:
Please keep in mind when reading body language, these markers or 'tells' must come in clusters and be timely with the questions asked. Just observing one or two of the body language markers below does NOT mean the candidate in being deceptive. These behaviors are usually associated with individuals who are nervous in general and that would be a normal feeling during an interview. However, we all know that a person being deceptive will most likely be nervous as well. So, be mindful of the following 'tells':
·       Tone of voice
·       Eye contact/movement
·       Red/flush/blotchy skin
·       Body alignment
·       Hesitation with answers
·       Breathing pace
·       Open or closed body language
·       Avoiding questions
·       Position of legs/feet
·       Look for unusual reactions
·       Dramatic changes in body position
·       Negative tone on specific questions
·       Wringing of hands/repeated rubbing or scratching
Once again, please keep in mind when reading body language, the aforementioned markers or 'tells' must come in clusters and be timely with the questions asked. Just observing one or two of the body language markers above does NOT mean the candidate in being deceptive. You are merely evaluating comfort levels to the questions being asked. 
7.    LOOK FOR FACIAL MICRO-EXPRESSIONS:
Another body language marker to pay close attention to are the facial micro-expressions that happen in a fifth of a second, which can let you know what emotion they are truly feeling at the very moment the question is asked. The Seven Basic Emotions are Anger, Contempt, Disgust, Fear, Happiness, Sadness and Surprise. These emotions have been scientifically proven to have a certain facial expression associated with them, which you can see below in the photos that were provided by Credible Security Solution's affiliate, Humintell. To learn more about micro-expressions, please click here.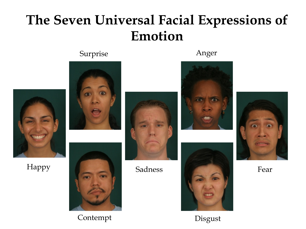 8.    ENSURE THAT THREE FORMS ARE PROVIDED:
So, you feel this is the person you would like to hire? I would strongly suggest having EVERY potential employee read and sign a background check consent form, credit check consent form as well as a drug test consent form.
Once they are provided with these documents, they have been informed that these extra preventive measures are in place, which may in turn make them reconsider employment if they KNOW you are checking all three areas. If they sign the forms, ensure all three checks are actually completed. To learn more about background checks, please click here. 
In conclusion, there are numerous tools you can use to ensure you are conducting a successful interview. The eight steps mentioned above are a few of the basics needed in order to become a successful interviewer and assist you within the hiring process. If you truly want to master the art of interviewing, then you should NOT miss our presentation entitled "Interviews For Success: An insiders approach to reading body language." We discuss open ended questions, facial micro-expressions and how to read body language effectively. We only conduct this presentation publicly ONCE a year so don't miss the opportunity or you can have us speak at your next corporate gathering. To learn more about our class on detecting deception, please see the video below. 
Please share your thoughts in the comment section along with the special hashtag that you found in the article. 
The main points in this article were published in The Texas Investigator Magazine, Winter 2014 edition.
The first documented report of shoplifting was in London, sometime in the 16th century. The people responsible for these acts at the time, were called "Lifters" Today, this problem has increased and is causing retailers throughout the United States, $13 billion in losses. According to the National Association for Shoplifting Prevention (NASP), that is equivalent to $35 million a DAY in losses or what retailers call "shrink". 
There are numerous tools that can be used to deter shoplifters such as good customer service, noticeable employees in uniform and name tags as well as a neat and orderly location. In addition, a security guard at the entrance/exit area of the location, CCTV, and an EAS system could assist as well. However, even with all of these tools, shoplifting continues to plague retailers throughout the country. Below are some statistics that were provided by the NASP and I am sure you will agree, are quite alarming. 

More than $13 billion worth of goods are stolen from retailers each year. That's more than $35 million per day. 



There are approximately 27 million shoplifters (or 1 in 11 people) in our nation today. More than 10 million people have been caught shoplifting in the last five years. 



Shoplifting affects more than the offender. It overburdens the police and the courts, adds to a store's security expenses, costs consumers more for goods, costs communities lost dollars in sales taxes and hurts children and families. 



Shoplifters steal from all types of stores including department stores, specialty shops, supermarkets, drug stores, discounters, music stores, convenience stores and thrift shops. 



There is no profile of a typical shoplifter. Men and women shoplift about equally as often. 



Approximately 25 percent of shoplifters are kids, 75 percent are adults. 55 percent of adult shoplifters say they started shoplifting in their teens. 



Many shoplifters buy and steal merchandise in the same visit. Shoplifters commonly steal from $2 to $200 per incident depending upon the type of store and item(s) chosen. 



Shoplifting is often not a premeditated crime. 73 percent of adult and 72 percent of juvenile shoplifters don't plan to steal in advance. 



89 percent of kids say they know other kids who shoplift. 66 percent say they hang out with those kids. 



Shoplifters say they are caught an average of only once in every 48 times they steal. They are turned over to the police 50 percent of the time. 



Approximately 3 percent of shoplifters are "professionals" who steal solely for resale or profit as a business. These include drug addicts who steal to feed their habit, hardened professionals who steal as a life-style and international shoplifting gangs who steal for profit as a business. "Professional" shoplifters are responsible for 10 percent of the total dollar losses. 



The vast majority of shoplifters are "non-professionals" who steal, not out of criminal intent, financial need or greed but as a response to social and personal pressures in their life. 



The excitement generated from "getting away with it" produces a chemical reaction resulting in what shoplifters describe as an incredible "rush" or "high" feeling. Many shoplifters will tell you that this high is their "true reward," rather than the merchandise itself. 



Drug addicts, who have become addicted to shoplifting, describe shoplifting as equally addicting as drugs. 



57 percent of adults and 33 percent of juveniles say it is hard for them to stop shoplifting even after getting caught. 



Most non-professional shoplifters don't commit other types of crimes. They'll never steal an ashtray from your house and will return to you a $20 bill you may have dropped. Their criminal activity is restricted to shoplifting and therefore, any rehabilitation program should be "offense-specific" for this crime. 



Habitual shoplifters steal an average of 1.6 times per week.
There is a tool that can not only deter shoplifting within your business but also assist you with recovering the merchandise if there is a theft and even possibly allow you to recover restitution from the perpetrator (
Civil Demand
). Store detectives can blend within your shopping environment and are trained to observe the five elements of proof that are needed in order to successfully apprehend a shoplifter. Notice, I did not state "suspected' shoplifter because a well trained store detective will not make a stop unless all elements of proof are present. The elements, which are listed below; guarantee that a productive stop will be made.
The store detective must: 
1. Observe the subject enter the store and/or the department
2. Observe the subject select merchandise that has been verified as store property
3. Observe the subject conceal the said merchandise
4. Maintain constant and uninterrupted surveillance on the subject
5. Apprehend the subject after he or she passes ALL points of payment
Some retailers have their own Loss Prevention or Asset Protection officers, yet other retailers may not have the budget for such a department. Our store detectives that are apart of our Shoplifting Response Team are fully trained on the aforementioned elements and have years of experience detecting, apprehending and processing shoplifters. They are the perfect solution for the retailer that has a shoplifting issue but can not justify creating a department and supplying store detectives at every location. To learn more about our investigative techniques, please
click here
. 
This article is not to claim that there was or wasn't  a conspiracy on 09/11. However, it does seem pretty clear that George Bush was going to use the word "conspiracy" during the interview that took place on Nightline, 04/24/13, which is posted below. The fact that the word 'another' was used right before that word slip, it does pose the question as to what OTHER conspiracy the he was referring too. Since Diane Sawyer's question was related to the possibility that the Boston bombing took him right back to the horrific events on 09/11, one could assume that the phrase he nearly stated, 'another conspiracy' was connected to his thoughts about 09/11. 
To shed light on this theory, right before that comment was almost spoken; his body language and facial micro-expressions seemed as if he was attempting to conceal a thought. This concealed thought was obviously in response to the question related to 09/11.  This can be seen when he pierced lips while taking a gasp for air before speaking, which then leads to him almost using the word 'conspiracy'. (39 seconds into the video)
In addition, please notice his wife's eyes at exactly 41 seconds into the video when he nearly utters that word 'conspiracy'. Her micro-expression seemed to show a very quick flash of surprise or fear. These two emotions can look similar to some but since her lips weren't stretched across her face, I personally would assume her look was that of surprise.
Also, was the question ever answered? Again, the question/comment was "The terrorism in Boston,  many people have wondered if it took you right back to 09/11 when you heard it?" His long winded answer of 33 seconds, along with body language, never really did address the question. One thing we know for sure now is that "It's really hard to protect the homeland."
What are your thoughts on the word slip as well as his wife's reaction? 
There are two characteristics one should look for when conducting an interview in order to read an individual's body language appropriately and those would be comfort and/or discomfort.  
If the interviewer is asking open ended questions, such as "When is the first time this investigation would show you causing a loss?" As opposed to "Have you ever caused a loss?" Or, with job screening questions such as "Tell me about a time you were terminated by one of your previous employers." as opposed to "Have you ever been terminated by one of your previous employers?" This will cause the guilty party to think more about the answer, which in turn may cause non-verbal modes of communication or body language markers of discomfort.  Some of these markers may include a facial micro-expression of fear or sadness, a slouching body posture, the slight shrug of a shoulder and/or manipulators such as tugging upon one's ear.  There may also be signs of soothing such as stroking ones leg or hands during particular questions. It is important to remember though, that these behaviors need to be in clusters and the body language markers need to be timely with the questions asked.  
To be a successful interviewer, one needs to learn how to ask open ended questions, listen to the subject's responses word for word as well be able to decipher the body language and micro-expressions that occur during every interview. To learn more about micro-expressions, please
click here
.To learn more about our Interviews for Success luncheons, please
click here
 and to obtain our FREE e-guide; 8 CREDIBLE STEPS TO A SUCCESSFUL INTERVIEW, please
CLICK HERE
. 
Credible Security Solutions is an official re-seller of Humintell's Facial Expression Recognition Training Tools. Humintell's emotion recognition training features images of individuals portraying the seven basic emotions: Anger, Contempt, Fear, Disgust, Happiness, Sadness and Surprise. But what exactly are basic emotions and where do other emotions such as shame, guilt and pride fit in? Read on to learn more…
Basic emotions are emotions that have been scientifically proven to have a certain facial expression associated with it. For example, the basic emotion of "Anger" can be recognized by this picture all around the world, no matter what age, religion or gender you are, or what language you speak. Anger can be characterized by these characteristics below: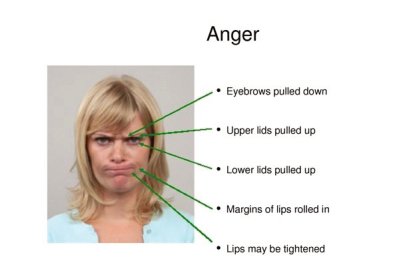 Similarly, Fear is also a basic emotion. Fear is recognized all around the world by this facial expression of emotion, with the characteristics which can be seen below. Its important to note that other words describing fear are also expressed by this same face (or portions of this face). Emotions such as scared, mortified, horrified and petrified all have characteristics of this expression.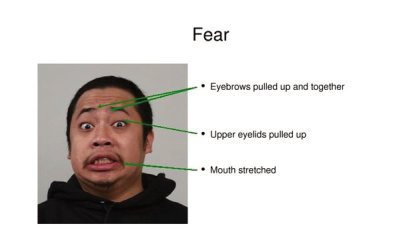 There are other basic emotions such as disgust, contempt, happiness, sadness and surprise. Their characteristics can be seen below: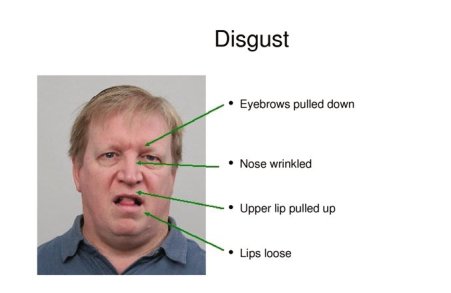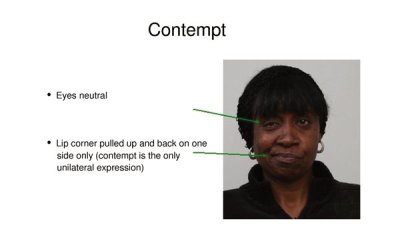 We often get asked about emotions such as shame, pride, jealously and guilt. While these emotions are important ones, they are still not considered part of the basic emotions set. For example, there is no scientific evidence showing that there is a universal expression of shame that is recognized around the world as shame. Be weary when you see or hear people labeling expressions as emotions not in the basic emotion set. There is little evidence backing up their claims.
Do you want to accurately read people's emotions, know when they are lying, build rapport, enhance relationships and gain the upper hand in negotiations? 
Well, you can.........
If you would like to learn micro-expressions through an online training format that you can complete in the comfort of your own home or office in as little time as just one hour, please click here. 
If you would like to obtain our FREE e-guide; 8 CREDIBLE STEPS TO A SUCCESSFUL INTERVIEW, please CLICK HERE.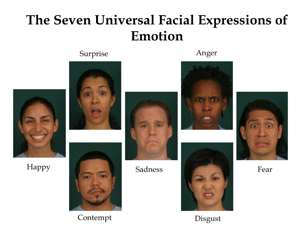 A micro-expression is a brief involuntary expression of emotion.  They usually occur when an individual experiences a strong emotion but tries to conceal his/her feelings.  They may also occur because a person experiences multiple emotions in rapid succession.  Unlike normal facial expressions, it is difficult to voluntary produce or neutralize micro-expressions.  They can express any of the
seven emotions
universally expressed in the face:  disgust, anger, fear, happiness, sadness, surprise and contempt.  They can occur as fast as 1/15th to 1/30th of a second.
The History: Micro-expressions were first discovered by Haggard and Isaacs (1966).  In their study, Haggard and Isaacs outlined how they discovered these "micro-momentary" expressions while scanning motion picture films of psychotherapy hours, searching for indications of non-verbal communication between patient and therapist. At around the same time, Condon and Ogston (1967) pioneered the study of interactions at the fraction-of-a-second level.  
In Condon's famous research project, he scrutinized a four-and-a-half hour film segment frame by frame, where each frame represented 1/25th of a second.  After studying this film segment for a year and a half, he discerned interactional micro-movements, such as the wife moving her shoulder exactly as the husband's hands came up, which combined yielded micro-rhythms. Condon's work, however, did not focus on facial expressions. 
Subsequently, Ekman and Friesen (1969, 1974) included the concept of micro-expressions in their studies of deception.  The results of this work were reported in the book Telling Lies (Ekman, 1985), and were popularized in the mass media through the television series Lie To Me.  They also play a central role in Robert Ludlum's posthumously published The Ambler Warning, in which the central character, Harrison Ambler, is an intelligence agent who is able to see them [micro-expressions].  
Similarly, one of the main characters in Alastair Reynolds' science fiction novel Absolution Gap, Aura, can easily read micro-expressions. On
 Law & Order: Criminal Intent
, Detective Robert Goren was adept in detecting micro-expressions. Although the existence of micro-expressions was reported in the 1960′s, the first report published in a peer-reviewed, scientific article validating their existence was Porter and ten Brinke (2008). T
he first report published in a peer-reviewed, scientific article about tests of the ability to recognize micro-expressions was Matsumoto et  al.'s (2000). 
Some studies have indicated that the ability to read micro-expressions is indeed related to the ability to detect deception. If you would like to learn micro-expressions through an online training format that you can complete in the comfort of your own home or office in as little time as just one hour, please
CLICK HERE
.  
If you would like to obtain our FREE e-guide; 8 CREDIBLE STEPS TO A SUCCESSFUL INTERVIEW, please CLICK HERE. 
Tell us about your experiences with reading micro-expressions during past conversations and/or during interviews........ 
References Cited: Condon, W., S,, & Ogston, W. D. (1967). A segmentation of behavior. Journal of Psychiatric Research, 5, 221-235.
Ekman, P., & Friesen, W. V. (1969). The repertoire of nonverbal behavior: Categories, origins, usage, and coding. Semiotica, 1, 49-98.
Ekman, P., & Friesen, W. V. (1974). Nonverbal behavior and psychopathology. In R. J. Friedman & M. Katz (Eds.), The psychology of depression: Contemporary theory and research (pp. 3-31). Washington, D. C.: Winston and Sons. 
Haggard, E. A., & Isaacs, K. S. (1966). Micro-momentary facial expressions as indicators of ego mechanisms in psychotherapy. In L. A. Gottschalk & A. H. Auerbach (Eds.), Methods of Research in Psychotherapy (pp. 154-165). New York: Appleton-Century-Crofts.
Matsumoto, D., LeRoux, J. A., Wilson-Cohn, C., Raroque, J., Kooken, K., Ekman, P., . . . Goh, A. (2000). A new test to measure emotion recognition ability: Matsumoto and Ekman's Japanese and Caucasian Brief Affect Recognition Test (JACBART). Journal of Nonverbal Behavior, 24(3), 179-209.
Porter, S., & ten Brinke, L. (2008). Reading between the lies: Identifying concealed and falsified emotions in universal facial expressions. Psychological Science, 19(5), 508-514. 
/